The weather in Portugal has been a bit unstable, giving us an unpleasant summer (we, Portuguese people, love sunny days and beach , right?) but in this case I think it helped a lot in this session's mood. Seeing a cloudy sky, where the Sun appeared sometimes and a quiet river Tejo, helped in the decision of where to photograph this day's car. About the car... Well, this car belongs to my friend Brito and it's not the first Honda Civic I publish here but it is, surely, the funniest (thanks to the owner who's a friend) and interesting I made contact until today. As you read in the title, it's a mere 1.4... Not so "mere", perhaps. It has some tricks. Cool tricks. Named VTEC. But still a 1.4... Why not a K or B swap? Or even a D16? Brito just wanted to do something different, explore the possibilities of this unit and, of course, be... Ehrm... Somewhat "legal".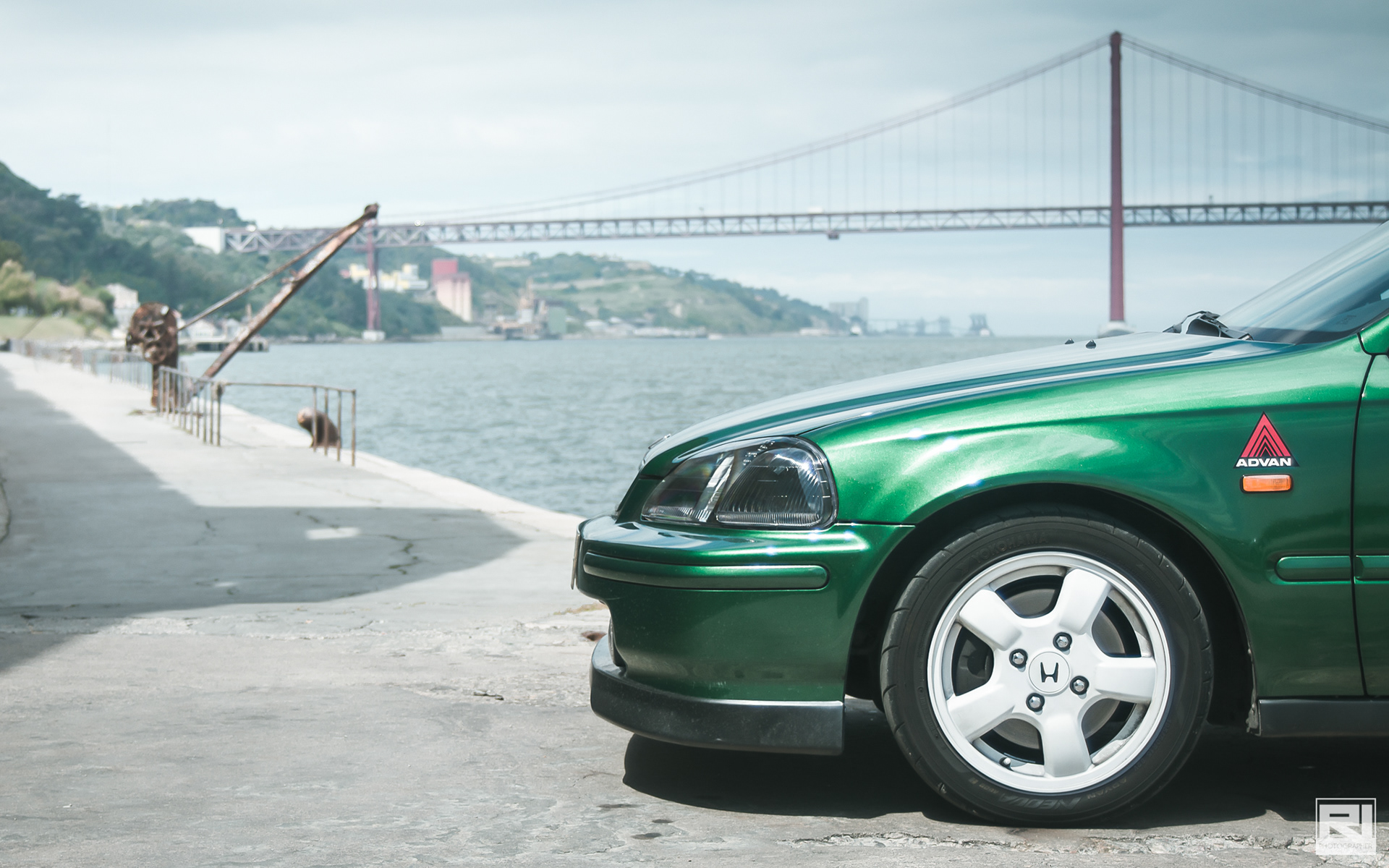 I'll be a little bit technical in this paragraph, shall I? The D14A4 received a D16Z6 head with adjustable camshafts gears, 4-2-1 manifold, D16Z6's intake and distributor and a P28 ECU to make that VTEC kick in, yo! Talking about the ECU, it was remapped by RPM Motorsport and all these mods made it jump from 90hp to 125hp. Not that much, but it changed everything in this car's behaviour, according to Brito. It also has a 55mm straight exhaust with a Magnaflow muffler at the end. Since it isn't only the engine bay that matters, this Civic also received a VTI rear sway bar, full brake system from a Civic Aerodeck VTI, 282mm at front and 262mm in the rear axle, coupled to stainless steel brake lines. It also received Eibach Pro Kit springs and Koni Sport dampers for a firm but precise ride. Simple but quality mods, ain't it? Sure it is and you'll understand why afterwards.
Since a car isn't all about specs, it also needs to have a nice look to our eyes (owners' eyes specially), so Brito's Civic has also some particular mods to accomplish this. Some of you who're reading this post might be wondering what color this Civic has, am I right? I believe so. It simply isn't OEM, nor JDM! Believe it or not, this color came from a... Mk1 Fiat Punto! Yes, you read it right, this Civic is italian flavoured! Well, sort of. It becomes even funnier because of this color name, "Verde Champion Pearl", since it points to the desired "Championship White" we see, for example, in the EK9 Type R. Funny coincidences... The front bumper received a generous lip and those wheels came from a Civic Aerodeck, receiving a new and white paint. Oh, and I almost forgot, those wheels are wrapped on great tires, too. Advan Neova AD08R. Inside some of you probably noticed the JDM dashboard, and yes, it's from the JDM Honda Integra Type R, and noticed the front seats, coming from a VTI. There's also a Skunk2 gear knob, coupled to a K-Tuned shifter, improving the driving position and feel.
So, how's this car behaviour? Daily? Race car? Weekend car? For what I saw, it's well balanced, although it goes more for a hillclimb/trackday car, than a daily, due to it's high rev appetite. And it was used in a trackday already, as it is! Check here! And it done it so well... Remember when I said "quality mods"? Well, mix them to the owner's driving skills and... 2min 22s was his time at Estoril Circuit! Not bad for a first time for Brito and for this humble Civic, right? I was there when he knew his time at Estoril and I would like you to see the happiness in his face! He was behaving like a little kid in a candy shop and our friends and I couldn't help to be happily surprised and congrat him. 
These are the moments we live in this automotive world. Friendship. And I believe this "italian flavoured" Honda is one of those cars that brings people together, being them awesome, boring, fast, slow... It doesn't matter how they are, but how it connects people. These connections become stronger with time and a proof for that is being at the day of this session with a group of common friends doing everything but focusing in the session itself for several minutes. It happens, I guess... Jokes, several threatenings of throwing each other to river Tejo because of those damned tasteless (SO TASTELESS) jokes. It's always the same thing in almost every private session I do. It's a good sign, right?
The spot itself was a second choice since Brito wanted to do it at Sintra, and we went there some months ago, right, but it was as I said to him, this car needed something less "green", it needed something that could give the car a "WOW" effect, but without being a cliché or too much obvious. It was hard to choose a nice spot, I admit, but thankfully Almada has this spots everywhere and a cityscape worked so nice standing out this car. And this was the final result. 
I didn't drive his car because we lacked in time, in spite of all the pressure Brito put upon me: "Come on Rodrigo, drive it, I wan't your opinion about how it feels, come on!". This guy can be so annoying (yes, Brito, I'm bad mouthing you in your own private session!)... But it's ok, there'll be a next time and, who knows, maybe we'll find a nice hillclimb and have time for... You know it. Test drives and so... However, I'm happy that Brito is even more in love with his car after he saw these photos.